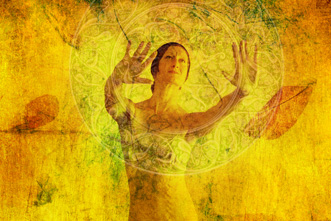 Priestess Wisdom has shown me a renewed awareness of the ancient mysteries of my deepest felt knowing about the Divine Feminine. In temple space, I experience ever-expanding breadth and depth that brings me to a permanent state of both coherent uplift and quiet grounding.
I am renewed and nourished as I let myself explore and expand my own multi-dimensional awareness, causing floods and floods of inspiration to surge through me.
Toggle to Read Entire Article. To Comment, click on 'Read More' below
Each time I cross the threshold into the empty presence of another feminine archetype, I am touched to my very core. At the same time, my whole self: my heart, my mind, my spirit and soul expand across space and time. At the end of the first round of my exploration, when I reached the Alchemist, the thirteenth archetype, I stepped into a sense of vast peace and solid, inner strength as a more complete, confident and powerfully centered version of myself.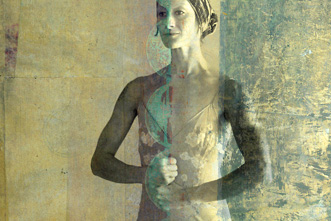 The most profound outcome for me has been a renewed connection with my creativity as an artist, a writer, storyteller and a coach. I am in the process of developing a book project, an online course, and art pieces that will include the power of our priestess pathway.
I have also incorporated the mentorship of the archetypes into my Goddess of Success coaching practice, as well as into my Heroine's Journey travel adventures for the empowered woman.
Most of all, this has been an opportunity to share temple space with a precious sisterhood of incredible women from all over the world, women who I have known and will know throughout all time.
I feel so blessed to experience this wonderful journey. I'm so grateful to have taken the steps to allow myself to come home to this sisterhood of Priestess Pathway of the Sanctuary of the Open Heart.
Read More
My Experience with Craig Hamilton's Collective Awakening
The first time I experienced a sense of collective awakening into spiritual intimacy, a connection with all and everyone in the "We Space," was during an experiment that I was participating in as faculty at a spiritual community named the Lama Foundation in Northern New Mexico, USA, in the early 1980s. Ram Dass was leading a week-long intensive and we had gathered to share a meal. He was chanting the Halleluiah Chorus and we all joined in as we shuffled along the food line. We were outside in the warm and refreshing summer air, under a big domed sky that reached beyond a vast mountain range at 8600ft. None of us were trained vocalists, yet our voices seemed so loud and powerfully connected to something much bigger than us that it felt as though we were experiencing the most well-engineered acoustics of a famous concert hall. Our voices were giving expression to the oneness and connection we all felt, beyond any one of our own separate egos…
Read Entire Post and to Comment, click on 'Read More' below
I have also noticed this collective awareness when I witness my daughter and her husband play drums and dance to African rhythms in their performance group. I feel the undulating waves of communication between them infuse my body and we all become one…
In July, 2012, I experienced this collective awakening at the Feminine Power Mastery end-of-session live intensive. It was amazing to to take part in the exercises that transported us to this zone, first with the core leaders of about 20 people, then we were joined by another group of the next level of leaders within the same field the next day and two days later, the rest of the assembled community stepped into the field we had been building until there were about 150 of us all experiencing an extraordinary level of oneness.
It was amazing to witness how the levels of hierarchy flattened out within a container of safety, peace and oneness. At the very end, we created a circle and faced out to send a wave of this awareness beyond us and into the rest of the world. I was quite moved and felt exceptionally comforted.
Just last weekend, a varied group of twelve women whose experience, ranging from several years of engagement with Katherine Woodward Thomas and Claire Zammit in the Feminine Power Community to several who had only heard about their work and wanted to know, in my living room to experience this collective awakening through the filter of the Feminine Power lens with amazingly powerful results.
My sense of what caused and catalyzed this collective opening:
The Ram Dass experience: We had become so unified within the practices and teachings we were experiencing together, at that moment when the preparations for the meal were complete, the quality of the environment so peaceful and powerful at the same time, our essences came into a cohesive vibrational field, a sense came over us that the deeper truth of us was connected with the deeper truth of everyone there.
African Dance and Drumming Ensemble: They are all so rooted in their own proficiency, so deeply connected with their own sense of the rhythm moving through each one of them, that the cohesion between them is infectious, and I catch the energetic wave between them. It is a multi-dimensional experience.
Feminine Power live intensive: We had been sharing the evolutionary edge for 9 months, so we were already very connected, but the exercises within the safe container of our bonded awareness created a powerful resource for this opportunity. That we started with the most bonded, advanced group stepping into the experience of collective awareness first was also a powerful catalyst. Then with that in place, aligning the next group with the evolving frequency, watching it rise even further and become more powerful was really astounding. Finally, it was easiest for the next group to catch the wave. At one point, with all of us riding the wave together, the conversation went so deep and so wide, that the PA system made a super loud booming sound and the electricity grid in the small beach town where the retreat was held went down for several hours…we pondered, wondering if it was the third big bang in the awakening of human consciousness… Who knows? Maybe…
This experiment with collective awakening, collective intelligence, the "We Space" promises to provide a container for the consciousness of humanity to step into a whole new level of integrity, deep connection and, ultimately peace beyond present understanding. I pray that world leaders will learn to stand in this place, to drop power-mongering, chest-pounding and ego-justification practices so that we can all learn to feel so self-empowered that we lead ourselves from the deepest truth of who we all came here to be.
Read More